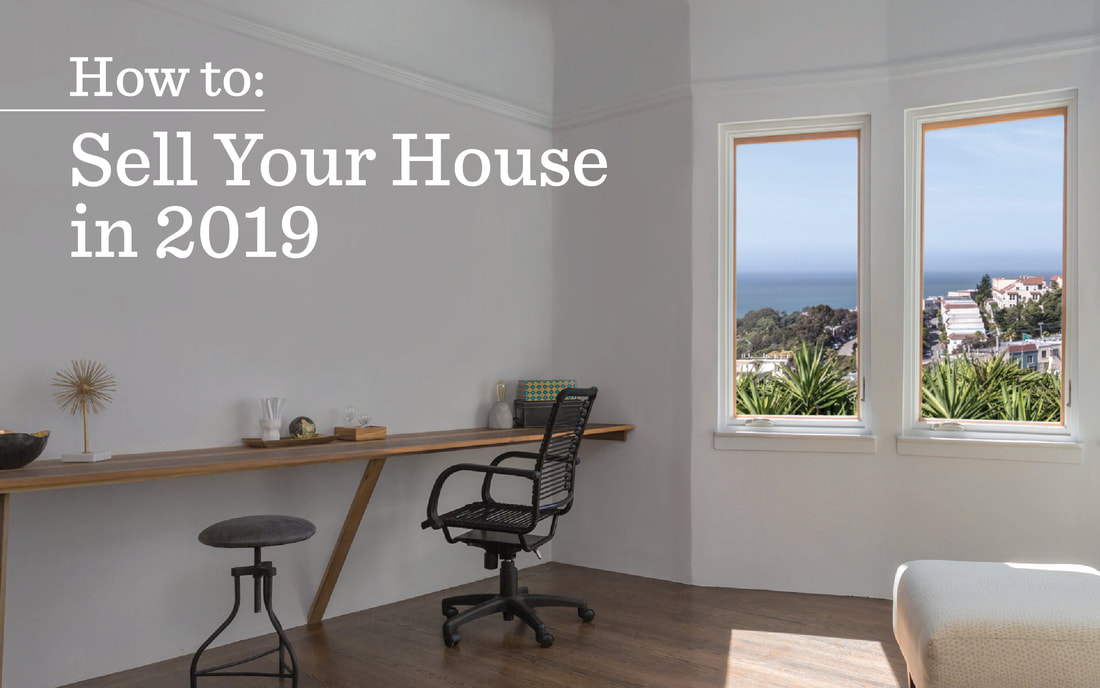 This weeks post comes from my friend Jeff Antila over at Redfin.com. Jeff is a frequent guest author here on the blog. This blog is a follow up and contrast to his last post: What You Need To Buy A House In 2019. He provides great information about how to successfully sell your home, and I couldn't agree more with his first tip. A pre-listing home inspection is a great way to make the buying and selling processes go much smoother for all parties involved! If you are thinking about selling, call me anytime to schedule your certified pre-listing inspection. Now, let's hear what Jeff has to say. Enjoy!
How To Sell Your House In 2019
Jeff Antila
So, you have found yourself at that point of selling your house and moving on. Maybe you're downsizing to a smaller house because the kids have finally left the nest, or you got a job in a new city and need to relocate, or finally, you retired and want to head south to warmer climates. Whatever your reason, you're ready to sell you home. Luckily for you, we put together a comprehensive guide for first-time and seasoned home sellers. Continue reading to find out how to sell your house this year.
 
1) Hire a Home Inspector
 
You're probably thinking wait, isn't that what the buyer is going to do? You're not wrong. When a buyer has made an offer and you've accepted it, the buyer will most likely hire a home inspector of their own. So, why would you hire a home inspector? First, if a home inspector turns up something that's in need of repair, wouldn't you prefer to resolve it long before entering into negotiations with a potential buyer?
 
In fact, if you end up needing to make repairs expected to take weeks to fix, you may lose that buyer altogether. Hiring a home inspector is a proactive approach to getting your home ready to sell. Known as a pre-listing home inspection, you can find out the exact condition of your property, what repairs need to be addressed beforehand, fix them, then focus on the next task to get your home sold fast.
 
Also, knowing the condition of your property will further assist you during the negotiation phase with potential buyers.  As you may already be aware, since you've already bought a home yourself, buyers often use their home inspection as a way of getting concessions from sellers, such as asking you to drop your list price. If you've already addressed any repairs that turned up in an inspection report, it is less likely that any new repairs will come up and impact your position during negotiations.
 
2) Make Repairs and Small Upgrades to Your Home
 
After your inspector makes a comprehensive list of repairs you should make, it's time to get started either making the repairs yourself or contracting the right person to do them. This is may also be a great time to make small upgrades to your home that will help your house to sell fast. You don't need to renovate your kitchen or anything, but that red accent wall that was extremely popular a decade ago might need a fresh coat of paint more neutral in color.
 
Understand Your Homes Selling Points
First, try understanding your home's selling points and then try to highlight those features to make them really stand out. Not sure what those features are in your home? Just think about what sold you on your home when you first toured it. Was it the kitchen, the open floor plan, or that personal studio space? These are the features you want to concentrate on because they are most likely to sell your home again.
 
Brighten Your Home
You also want to think about ways to brighten your home and improve your curb appeal. Simple ways to brighten your home is painting your ceilings white and choosing a wall color that is brighter and more neutral. Though you may have enjoyed that accent wall, not everyone has the same taste as yourself. You want to make your house appeal to the largest audience possible to not only sell your home fast but to also invite more offers.
 
Improve Your Curb Appeal
Furthermore, improving your curb appeal is crucial for future homebuyers. You only make a first impression once, and the curb appeal of your home is the first impression of your home for potential buyers. Though you may not necessarily have to paint the exterior of your house to impress homebuyers, simple things like trimming your hedges, freshly mowed lawn and making sure any exterior lights aren't burnt out can go a long way. Even freshly laid beauty bark and newly planted flowers can really make your yard pop!
 
Though this can be a lot of work, you will be happy that you did it because homes often sell faster and for more money when these small upgrades are done. If you don't want to do all that work yourself, don't know how to, or just don't have the time, there are concierge type services that can do it all for you. This way you can focus on moving to your next home.
 
3) Declutter and Prep Your House to Sell
 
There's an expression in real estate, "clutter can cost a sale." Decluttering and prepping your home is something you want to really focus on. Especially if you've lived in your house for five years or more, there is a good chance you've collected a lot of stuff. Don't worry it happens!
 
Renting storage units are becoming an increasingly popular method to decluttering one's home before selling it. The idea is to limit the amount of stuff in your house so that potential buyers can envision themselves (and their stuff) in that space. Even removing photos is a great way to allow people touring your home to think about what they would hang on those walls or what they'd place on that fire mantel. Basically, you're trying to present your house as a canvass from which potential buyers can create the next chapter of their lives.
 
Furthermore, by eliminating the majority of your stuff in your house earlier you can start deep cleaning your home more easily. And yes, you want to deep clean your home. If you sold your car to someone (not a dealership) you would probably wash it and vacuum the inside of it before you let someone test drive it, right? Well, the same goes for selling your house. You want to present your home in its best possible light so that it sells fast and you get competing offers.
 
Also, don't just focus on deep cleaning just the inside of your home. You can use a pro wash to clean the outside of your home as well. These products typically attached to your garden hose and then you just spray your house down. It's kind of like washing your car, just without the scrubbing.
 
4) Find a Real Estate Agent
 
Finding a real estate agent is easy, finding a great real estate agent can be more of a challenge. Getting referrals and reading online reviews is a great way to start narrowing down your options, and hopefully, you'll end up with a couple of good potential candidates to interview.
 
You'll want to understand what you're looking for when hiring a real estate agent to represent your best interests. Here are some questions to consider asking any potential candidate:
 
How many clients have you served this year?

Has a client ever filed a complaint against you?

What is your fee? (3% commission is beginning to be replaced by 1% – 1.5% in many areas)

What services do you offer beyond negotiations and escrow?
 
After you decide on a real estate agent, you and your agent should come up with a plan of action. This plan should include a timeline, from the pricing of your home and getting it listed on MLS to open houses. It should also include when a price reduction strategy needs to take effect to get your home sold. You and your agent should be on the same page at all times and a plan of action will help ensure that.
 
5) Price Your Home to Sell
 
Now is the time to find out what price you should list your home! You can start by using online tools to help you get an idea of what your home is currently worth. This is a great starting point to get an idea of your home's worth, but you should never set your sights on a single number and expect it to happen. Market conditions change all the time and so too does buyer behavior. Being open-minded about pricing your home as well as adjusting price is key to get your home sold.
 
Another option that many homeowners do to get a list price for their home is to hire a home appraiser. Home appraisers are licensed professionals that will assess the value of your house based on the state of your property and overall housing market conditions. They will look at the size of your property, the interior and exterior conditions of your house, any upgrades, additions or home improvements you've done, and then calculate your home's worth based on the local market conditions.
 
Looking at comparables of recently sold homes in your area will also help you settle on a price with your real estate agent. These homes should be similar in size, location, and sold within the last few months. Anything outside of those parameters would not be considered true comparables and could give you false information for pricing your home.
 
Furthermore, you want to be strategic about your pricing. You want your house to sell fast while being competitive for current market conditions. Instead of lumping the price of your house in with others in the area, strategize your pricing based on your home's selling features. In other words, if there are three houses for sale in the same area as your own and priced at $350,000, you might be able to justify $360,000 or more because you have a larger lot size or maybe you're located in a popular neighborhood.
 
6) Get Professional Photos Taken of Your Home
 
Nothing sells a home faster than professional photos. Put yourself in the buyer's shoes. They are searching online, looking at every home that comes up for sale within their filtered interests the moment it's listed. If your house is being represented online by poorly shot photography, your listing will see very little traffic. Not to mention, it has been widely observed that listing your house with professionally shot photos, on average, sell for more money than other listings.
 
Furthermore, 3D walking tours along with aerial photography that show a bird's eye view of one's home and its surrounding area have become increasingly popular with buyers looking online. Many agencies include some or all of these services as a component of their overall services to you as a seller. However, you should ask while interviewing your real estate agent what services are provided, so you don't find yourself paying out of pocket later. Just remember, the better you represent your house online, the faster it will sell.
 
7) List Your Home to Sell
 
Your real estate agent will get your home listed online on MLS (Multiple Listing Service), in order to l start showing up on real estate search platforms to potential buyers.
 
You may be wondering when is the best time to list your home? If you're thinking about waiting for a specific season, then you might be waiting for nothing. In 2016, Redfin analyzed more than 7 million home sales to identify specific seasonal trends in homes being sold. What was determined was that though spring was slightly better for homes that sold within 30 days and for above asking price, winter was surprisingly a close second. What plays a bigger role in a house being sold quickly and/or above asking price has more to do with current market conditions than the season a house is sold.
 
Also, don't limit the marketing of your house to your real estate agent and online search. Market your house yourself! Spread the word through your family and friends, share your listing on social media, send out emails asking people to share your listing with others, and even advertising with online ads are ways of getting your house in front of more people and increase the chance of selling your home faster.
 
8) Have Open Houses and Personal Showings
 
Your first open house is what you've been working towards and now it's about to happen. It's time to step up your game and stage your home to sell. Here is a list of things to consider that will really help you make your house shine:
 
Clear the clutter: You may have already transferred most of your belongings to a storage unit by now. Focus on just cleaning up the clutter that gets left out on countertops and tables. Put away newspapers, mail or magazines, or if you have children help them pick up their toys.
Deep clean your house: Nothing turns off a buyer more than an unclean bathroom. That could also be said about the rest of your house. Now more than ever is that time to wash your windows, window sills, and scrub your grimy glass shower doors.
Add white accents: White accents such as flowers or towels in the bathroom create a sense of welcome cleanliness.
Arrange furniture: You don't have to necessarily rent furniture to stage your home. You can most likely use what you have. The key is to limit the number of furniture pieces in any one room and then arrange them in a way that's inviting to people as they enter the room.
Bring in light: Think about removing your curtains or keeping them drawn back to allow as much light into your house as possible. If you have rather large elaborate curtains, consider storing them away until you get to your next home.
Showcase your floors: Floors are key feature homebuyers are looking at, especially if you have wood floors. Show them off by removing any rugs or unneeded furniture so that more of your flooring can be seen. If you have wood floors, think about getting them polished to really make them pop!
Create a welcoming ambiance: You may have heard about that old trick of lighting a candle that smells like freshly baked cookies? Well, it's not wrong, but a single candle might not do the trick. Focus on reducing odors in your home. If you have a mudroom, or a cat or dog, use a neutralizing spray for a few days before an open house to limit any odors that you may not actually realize are there.
Organize all closets and drawers: Homebuyers touring your home will most likely look in your closets to determine space and, frankly, to see if their stuff will fit in there. Also, they will likely open kitchen drawers and cabinets as well, so make sure everything is nice and tidy.
Dust: Concentrate on all the areas that you've most likely have turned a blind eye to for some time, like ceiling fans, baseboards, on top of doorways, appliances, etc.
Make your entrance inviting: If the exterior of your house has outdated light fixtures or worn out address numbers, consider replacing them along with your welcome mat. A new mat is always inviting to people touring your home.
Secure your valuables: If you didn't already store your valuables away in the storage unit you rented, you'll want to make sure that these are not kept in plain sight. In fact, if you have a safe of some kind, that would be a perfect place to store your valuables while open houses and home tours are taking place.
 
Unlike open houses that are planned in advance, personal showings can happen at any point during the home selling process. The key is to be flexible and maintain your home's cleanliness to make it easier on yourself in case of unexpected tours that may just pop up at moment's notice. You want to make a great first impression every time!
 
10) Have a Plan in Case Your Home Doesn't Sell Quick Enough
 
You and your real estate agent should have already gone over this beforehand, but not every house sells after the first open house. There are many factors at play and depending on the condition of the housing market for your area, your real estate agent may have to use some other strategies in their arsenal to get your house sold.
 
If it's lowering the price of your home or holding more open houses, you'll want to agree on what the next steps should be in case your house isn't seeing any offers.
 
11) Negotiate the Selling Price of Your Home
 
One thing to consider is that the buyer is trying to get the absolute best price they can, while you're doing the exact same. There will be multiple factors to consider as each home sold and purchased is different. For example, if it's a buyer's market that means the buyer has the upper hand because there are multiple listings with fewer offers being made. But that doesn't necessarily mean you have to make huge concessions in order to sell your home.
 
This is where your agent really steps up. They will help you navigate the negotiation process, and will give you their advice on how to proceed when offers are being made. Luckily, you interviewed and hired the right agent, so you know they have your best interests in mind. There are several factors and tactics to consider when entering this phase. Your agent will help you every step of the way as you navigate through the negotiation process.
 
You most likely have made many great memories in your home. Your children may have grown up in your house and marks of their heights years past still scar the wall near the kitchen. It's difficult, but try to separate yourself – emotionally – from your house. Whatever your memories may be, just remember they are not lost, but they also have no place in negotiations. Try to remain objective during this process and rely on your real estate agent for advice and how to proceed.
 
12) Sign and Close
 
This is the moment you and your agent have been working towards. You've agreed on a price with the buyers, any and all inspections and appraisals of your home have been completed, and you are now signing the papers to sell your house. Congratulations, you've done it!
 
Source: Redfin