Imagine this. It's 2 a.m. and you are sound asleep. Suddenly you are awakened by the blaring sound of your smoke detector.  Your house is on fire. You need to get out but the hallway outside your bedroom is blocked by flames. This is where the code compliant egress window that should be installed in your bedroom can save your life.
An egress window, referred to in the building code as an Emergency Egress & Rescue Opening, is one that opens directly to the exterior of the home. It is designed to allow occupants to exit the home in case of emergency, or, in a worst case scenario, allow firefighters a way to enter the bedroom to search for and rescue occupants who may be incapacitated. There are specific size requirements for a window to be considered an egress window.
According to the International Residential Code, egress window requirements are as follows:
Minimum width of window opening: 20 inches

Minimum height of window opening: 24 inches

The net clear opening must be at least 5.7 square feet unless the bottom of the opening is within 44″ of the ground at the exterior. In those cases, the opening can be reduced to 5 square feet.

The bottom of the required opening must be within 44″ of the floor.

Window wells must be at least 3′ x 3′, and they must allow the window to open fully. If the window well is more than 44″ deep, it needs a ladder.

If there's a deck or porch above the basement window well, at least 36″ of headroom is needed.

Must be operable without keys, tools, or special knowledge​​
The diagrams below illustrate these requirements.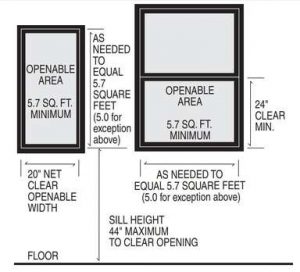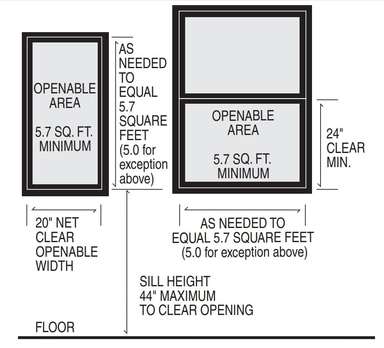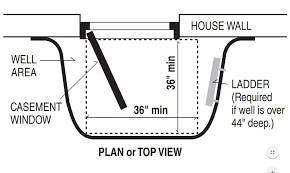 During a home inspection, I look at bedroom windows to determine if they are safe. Sure, I could pull out my tape measure to make sure the window meets egress measurement requirements, but I believe it is much easier than that. In fact, I believe anyone could determine if a bedroom widow is safe or not. If you don't think you could reach and/or fit through the window opening with relative ease, then its probably not a safe egress window.
Egress window requirements were seen in building codes as early as 1970, though many jurisdictions didn't adopt these codes until years later.  It is not uncommon to see homes with windows that are too small by today's standards, yet were perfectly acceptable when the home was built. If you have aging windows needing replacement that don't meet current egress requirements, have no fear. Most jurisdictions allow you to replace existing windows with energy efficient windows of the same size. Depending on the size of the window, another option would be to replace it with a casement window with egress hinges. This would give you an energy efficient window that also qualifies as an Emergency Escape & Rescue Opening.
Home inspectors should point out windows that are too small as safety hazards and recommend the issue be corrected. While correction would be the best option, it is not always feasible. In this case, another option would be to not use the room as a bedroom.